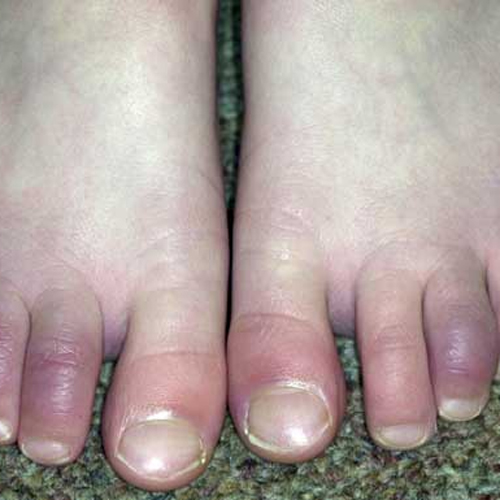 COLD FEET
Almost a third of all women have almost always cold feet. Chilblains are caused by poorly ventilated skin, often in combination with tight shoes.
What can I do for you?
I will give you a massage in combination with warm wraps. This will improve the blood circulation in the feet so that the complaints will decrease.
What can you do yourself?
Make sure your feet are warm and don't wear pinching socks and shoes. Prevent large temperature differences and lubricate your feet with substances that improve the blood circulation of the skin.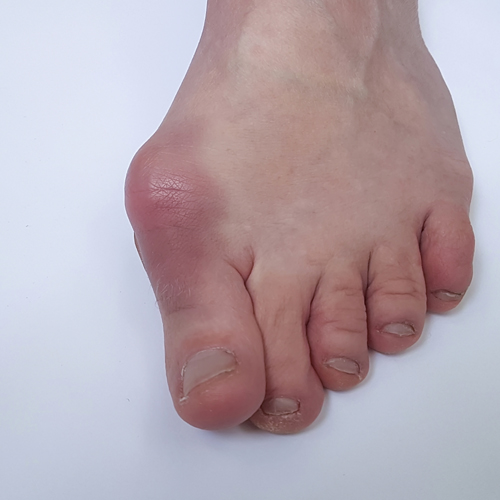 ​FOOT AND HALLUX PROBLEMS
Women like to walk on high heels because it makes their legs look slim. But high heels change the centre of gravity of your body and puts more pressure on your forefoot and/or hallux. Resulting in, for example, a prolapsed forefoot or a hallux valgus.
What can I do for you?
A prolapsed forefoot and/or a hallux valgus often leads to pain while walking and to calluses and corns on certain pressure points. I can, if still in an early stage, give you exercises and tips to relieve the pain and to try to postpone an operation for as long as possible. Of course, I also remove the calluses and corns that often occur on the pressure points.
What can you do yourself?
Make sure you have well-fitting shoes without high heels. Do regular muscle-strengthening exercises and massage your feet with moisturizing cream so that the skin stays in good condition, thus preventing extra problems with your feet due to calluses and/or corns. And visit a podiatrist for attachments/soles that reduce the pressure.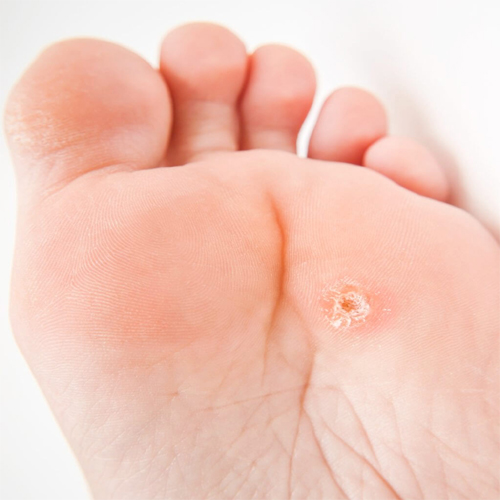 ​CALLUSES & CORNS
Calluses are a reaction of the skin to pressure from, for example, the wrong shoes. A lot of calluses does not only look unattractive, but it can also lead to annoying symptoms. Corns are a wedge-shaped accumulation of a lot of calluses in one place.
What can I do for you?
Not only do I remove the excess of calluses, but I also try to find out the cause and come up with possible solutions. If you suffer from corns, you can make an appointment with me. I will remove the corn and try, together with you, to find out how we can prevent you from being troubled by corns again.
What can you do yourself?
Make sure that the shoes you are wearing properly fit. Moisturise your feet with a good cream that keeps your skin supple. If you like I can advise you on good moisturizing (non-greasy) creams.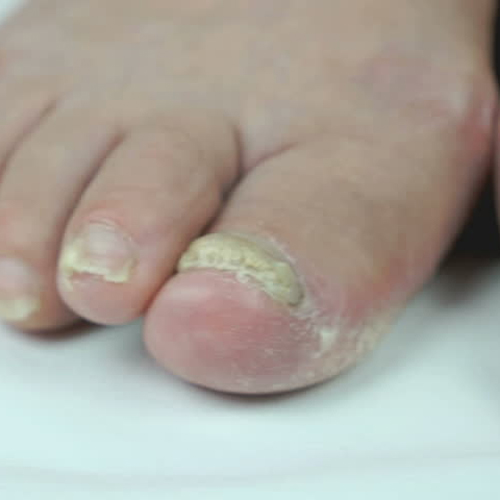 FUNGUS ON FEET AND NAILS
Women who often wear nylon stockings are more likely to develop fungal infections, such as foot fungus. Nylon does not breathe and can cause excessive sweating, an ideal environment for fungi. Once you have a foot fungus or a fungus nail, adequate treatment is necessary because a fungal infection does not heal naturally.
What can I do for you?
I cut your thick nail thinner so that the fungal nail medications we choose together can do its job properly. I also tell you what to do with your socks and shoes.
What can you do yourself?
Wash your feet every day and dry them well, especially between the toes. Avoid wearing nylon stockings and put on clean cotton socks every day. Wash your socks at 60 degrees Celsius and disinfect your shoes and socks with a fungicide. And never walk barefoot in the sauna, pool or changing room but keep your slippers on!
​INGROWING TOENAILS
In women, ingrowing toenails often occur due to incorrect nail cutting combined with a tight forefoot in a high-heeled shoe which causes the nail environment to soften. Many people tend to tinker with an ingrowing nail themselves, making the situation worse.
What can I do for you?
I have various instruments and techniques to help you get rid of your growing toenail and to prevent repetition. And I can show you how to cut your nails.
What can you do yourself?
Always cut your toenails straight and never cut the corners of your toenail with you. Wear well-fitting shoes and socks and make an appointment with me quickly if you have the first symptoms of an ingrowing nail. Do your toenails curl up a bit on the sides? Then you have a larger risk of an ingrowing nail. Let me advise you on what you can do to regulate nail growth.