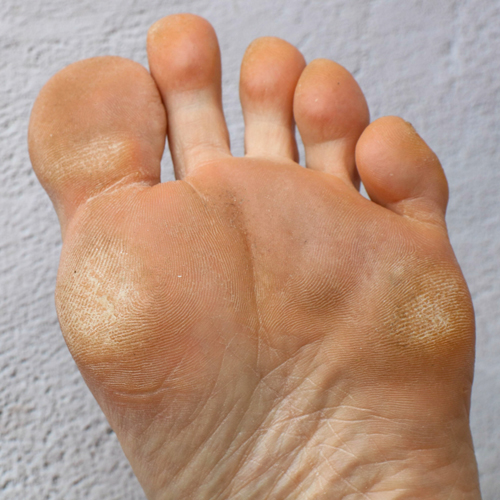 CALLUSES & CORNS
Calluses are a reaction of the skin to pressure from, for example, the wrong shoes. A lot of calluses are not only disfiguring, but it can also lead to annoying symptoms. Corns are a wedge-shaped accumulation of a lot of calluses in one place.
What can I do for you?
Not only do I remove the excess of calluses, but I also try to find out the cause and provide possible solutions. If you suffer from corn, you can make an appointment. I will remove the corn and try, together with you, to find out how we can prevent you from being troubled by corns again.
What can you do yourself?
Make sure that you are wearing properly fitting shoes. Moisturise your feet with a good cream that keeps your skin supple – a good cream isn't just for women.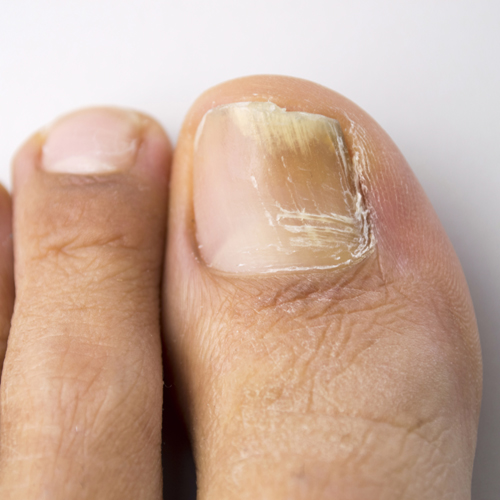 ​FUNGAL NAILS
More than a quarter of men have one or more fungal nails. But men don't walk in sandals and hiding their nails in closed shoes is a lot easier. However, that doesn't diminish the fungus. On the contrary, the fungus thrives in a nice warm, humid environment and can spread even faster in a closed shoe.
What can I do for you?
I cut your thick nail and make it thinner so that the fungal nail medications, which we choose together, can do its job properly. I will also tell you what to do with the inside of your shoes.
What can you do yourself?
Wash your feet every day and dry them well, especially between your toes. Put on clean cotton socks every day and wash your socks at 60 degrees Celsius. Disinfect your shoes and socks with a fungicide. And never walk barefoot in the sauna, pool or changing room, but keep your slippers on!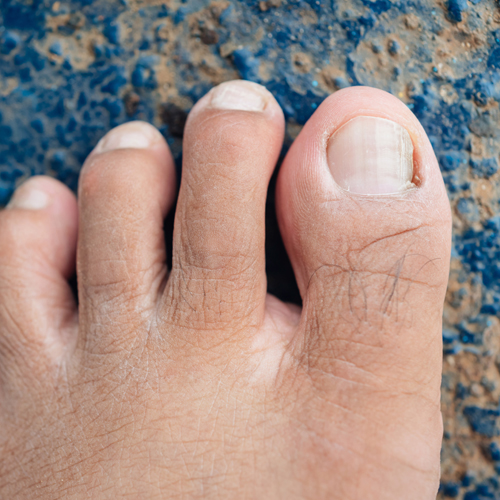 ​INGROWING TOENAILS
Growing toenails are often caused by incorrect nail cutting, a weak nail environment due to, for example, a lot of perspiration or poorly fitting shoes and socks. Many people tend to tinker with an ingrowing nail themselves, making the situation worse.
What can I do for you?
I have various instruments and techniques to help you get rid of your growing toenail and to prevent it from reoccurring. And I can show you how to cut your nails.
What can you do yourself?
Always cut your toenails straight and never cut the corners of your toenail with you. Wear well-fitting shoes and socks and make an appointment with me quickly if you have the first symptoms of an ingrowing nail. Do your toenails curl up a bit on the sides? Then the risk of an ingrowing nail is greater. Let me advise you on what you can do to regulate nail growth.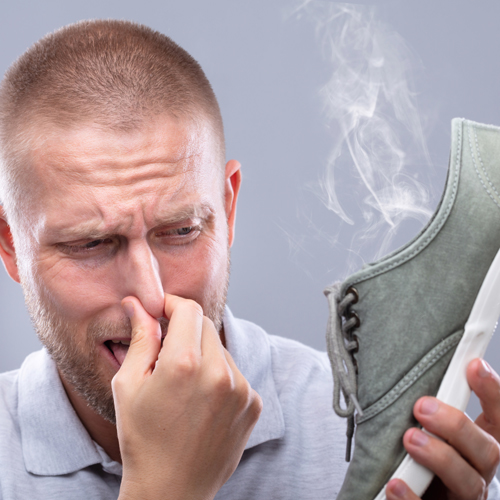 SWEATY FEET
Your feet have more sweat glands than any other part of your body. Sweaty feet, however, are not caused by too many sweat glands, but by bacteria that live on your feet. These bacteria convert the components of sweat into smelly fragrances.
What can I do for you?
Bacteria love a humid climate. Long nails and a lot of calluses give the bacteria exactly what they need. I keep your nails short and remove excess calluses.
What can you do yourself?
Wash your feet at least once a day with an antibacterial soap. Dry your feet well, especially between the toes because the bacteria thrive in a humid environment. For this reason, make sure you put on clean socks at least once a day. Also, change your shoes every other day so that they get a chance to dry properly.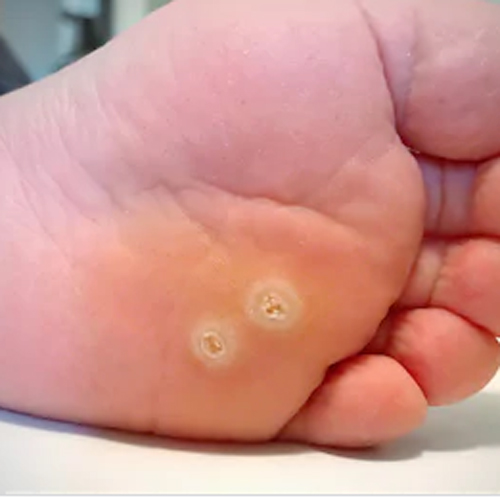 VERRUCAE
Warts are caused by a virus and are, just like corns, very painful. Moreover, they don't look very nice and warts are very contagious. The difference between warts and corns is that warts hurt if you squeeze them (i.e. apply lateral pressure) and corns hurt if you apply pressure from above.
What can I do for you?
If you have one or more warts, first visit your doctor to get confirmation that they are indeed warts. After that, you can come to me for treatment.
What can you do yourself?
Prevent contamination by always wearing flip-flops or bathing shoes in public (swimming) baths, showers and sports halls and don't share these with others. Do not share your towel with others and wash it at a minimum of 60º C. Never scratch your warts either. The top layer is very contagious and by scratching it you could also get warts on your hands. So if you have touched them before treatment make sure you wash and dry your hands well.